Annual Memorial Day Flower Drop & Air Fair
May 27 @ 8:00 pm – 2:30 pm, Palm Springs Air Museum, 745 North Gene Autry Trail, Palm Springs, (760) 778-6262, www.psam.org; Friendly pets on leash welcome.
A very special day at the Palm Springs Air Museum, a Memorial service dedicated to all fallen comrades, will be highlighted with a fly-by and flower drop of over 3,000 red and white carnations from B-25 Mitchell bomber.
Day starts with flight exhibitions and warbird rides for sale
11 a.m. Clay Lacy Lear Jet Unveiling
1 p.m. Flower Drop Ceremony Begins: congressional presentation to Lt. Col. F. Russ Mulvany, who was a B-24 Tail Gunner during World War II.
Special guests include Lt. Col. Bob Friend, Tuskegee Airman
Activities include Color Guard, Palm Springs Air Museum Pipe Band, music by Heatwave Jazz Band, Knights of Columbus Helium Balloons, Harpo the Clown, and Totally Twisted Balloons. Food vendors include In 'n Out Burger, Freedom Fighters' Cafe, Cone Zone, Fries Galore and Kone Pizza.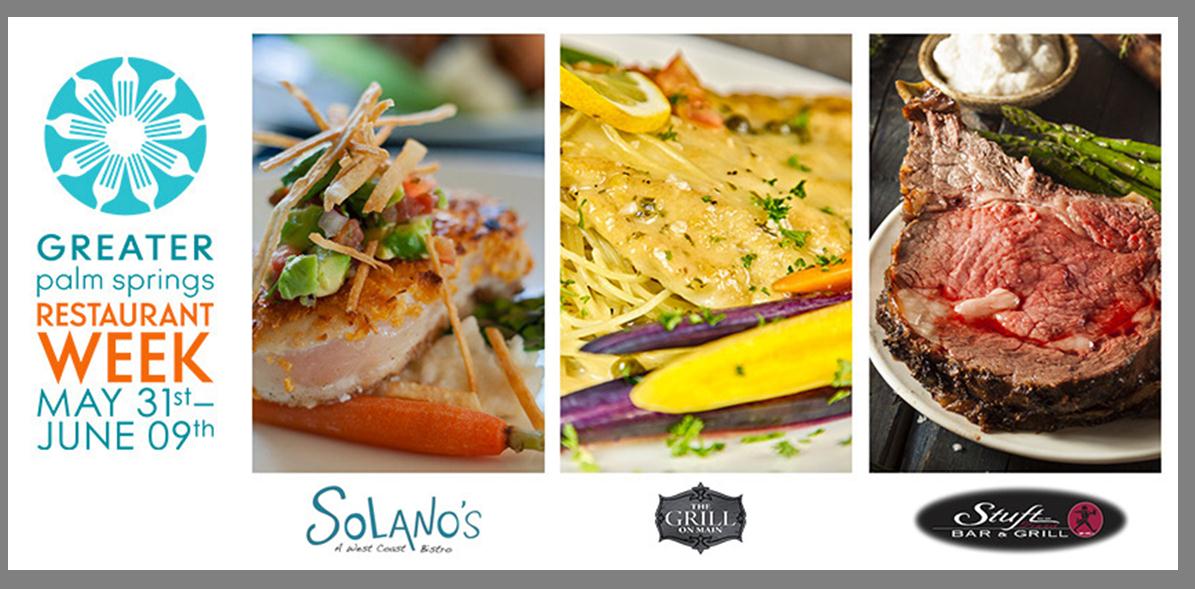 The Greater Palm Springs Restaurant Week®, May 31 – June 9, 2019
A 10-day dining event with over 100 Participating Restaurants across the Coachella Valley
Special lunch and dinner menus include: 2-item lunches ($15, $20 and $25) for 2-item lunches and ($29, $39 and $49) for 3-item dinners.
Old Town La Quinta Restaurants

3-Course Dinners are $29 – Reservations are recommended for Solano's & The Grill on Main.
Around the Valley
Coachella and Stage Coach is over, and it's high season for us desert dwellers is just beginning. So, grab your partner, and make this Spring the best ever! Embedded links take you direct to schedules and box office tickets. Enjoy!
PALM SPRINGS VILLAGEFEST/ Thu. 30, 6:00 PM – 10 PM; June 6, 13, 20, 27, 7 PM -10 PM, FREE ADMISSION. Downtown Palm Springs, 101 S. Palm Canyon. Check out the downtown businesses with BOLT (Businesses Open Late Thursday) signs in their window. Villagefest offers great street entertainment in the heart of beautiful downtown Palm Springs. Browse more than 200 booths. www.villagefest.org
COLLEGE OF THE DESERT STREET FAIR, EVERY SAT. & SUN. 7 AM- NOON. 43500 Monterey Avenue, Palm Desert. Merchandise and services for all ages and any budget, the Street Fair offers more than 300 merchants, artists, Farmer's Market, entertainment, food, and more. 760-636-7957. www.codaastreetfair.com
JOHN STANLEY KINGS SHOW/ Every Fri. at VICKY'S OF SANTA FE, 8 PM – 11:59 PM; 45100 Club Dr., Indian Wells. The Music Lounge at Vicky's is flanked by dual fireplaces and centered with a 9-foot concert grand piano and built-in dance floor. Food and Cocktail Service at all times. No reservations. Open seating. No covers. The John Stanley King Show! Every Fri | 8 PM to Midnight |No Cover. Kick it up on the floor or just listen in to good music. www.Vickysofsantafe.com

FANTASY SPRINGS CASINO
May
June
Hubert Wu and Jinny Ng | 15
July
June

MC Magic | 15
Steve Augeri | 22
Hunks The Show! The Ultimate Ladies Night| 28
Ronald Cheng | 29
July
Hotel California (18+ Event) | 13
A New World Record – ELO Tribute | 19
The Ultimate Queen Celebration | 27
MORONGO CASINO

June

Legacy Fighting Alliance 69 |7
Jeff Ross and Dave Attell | 14
Thunder from Down Under (18+ Event) | 28, 29
July
Lee Greenwood | 6
Los Lonely Boys | 12
MCCALLUM THEATRE
August