Coachella Real Estate Market is Slowing and, Trilogy is Feeling the Effects
Inventory of homes in Trilogy and around the Valley, are still low, and typically that would make for an excellent sellers market. Except that in today's market, there are also fewer buyers, and for the most part, they are picking off the cream of the crop, and at bargain prices.
I know I've said this before, but if you are serious about selling your home, make sure it is clean, uncluttered and at least hints at the more contemporary styling that buyers today, are looking for. And, the great thing about our Trilogy homes, is that it doesn't take much money or time, to make the few changes you need to attract a willing buyer.

HGTV & Pinterest for Fresh Design Ideas
If you are at a loss as to what to do, go online for some great decorating tips. For example, white kitchens are all the rage right now. While you may not want to spring for a whole new set of cabinets, you maybe able to change out the backsplash or countertops, or even a few light fixtures.
Check out this beauty from HGTV's Tracy Lynn Studio, Timeless & Transitional White Kitchens, for a look at a beautiful white. Love the counter stools!
HGTV SweepStakes. Hey, for all you interested in possible winning the 2019 HGTV sweepstakes, here's your chance to enter.
Trilogy Home Sales for March Year-over-Year Comparison

Trilogy by the Numbers*:
Number of Homes Sold: decreased (–7%), 5 vs. 6 in 2018.
Number of Homes for Sale: down (-22.5%), 55 vs. 71, in 2018.
Average Sold Prices: increased (+6%) to $450,000 in 2019 vs. $423,000 in 2018.
Median Home Prices: increased by (+13%) to $420,000, vs. $373,000 in March 2018.
Number of Homes Pended: down (-47%), 10 in 2019 vs. 19 in 2018.
Days on Market increased: (+23%), 95 days on market in 2019 vs. 77 days in 2018.
Of the Homes Sold March, (69%) were under $500,000.
Of the Homes Listed for Sale in March, (63%) were under $500,000.


Trilogy at La Quinta First Quarter 2019 Home Sales
Location in Trilogy, age, condition, decor, and even the sales agent makes a difference in how much your home will list and eventually, sell for. It takes experience and skill to list and market you home. But, in today's market, it also takes connections far broader than our local market, and extraordinary marketing savvy to get your home sold, and for the best price possible.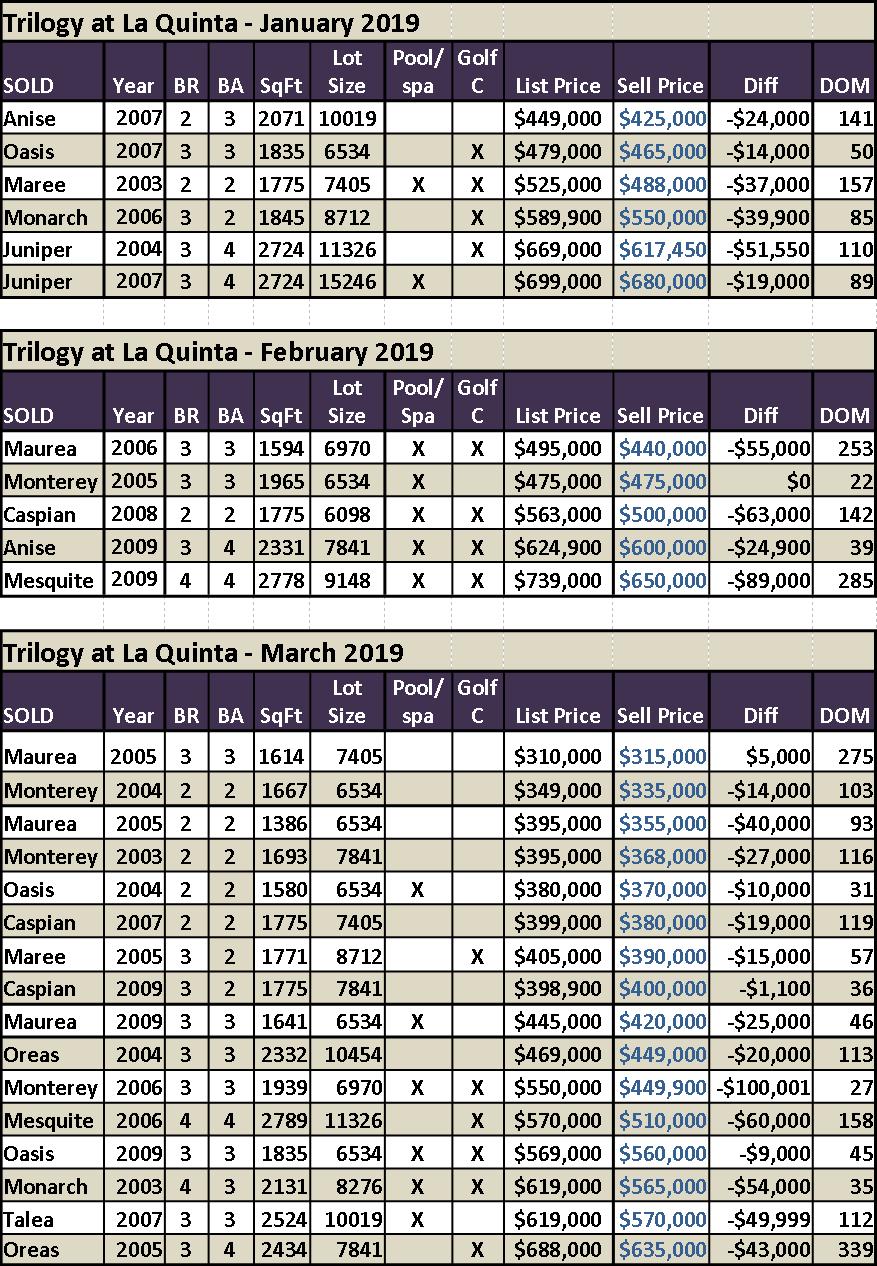 I'm Here for You!
If you are thinking of listing your home, or just want to chat about the local housing market, give me a call.
I work hand-in-glove with local real estate agents that have not only decades of experience, but have a rich legacy of building over 3,000 homes in La Quinta. I also work to promote homes direct to other Trilogy's, particularly those with owners and potential buyers interested in moving from the Pacific Northwest to Trilogy at La Quinta.
In a soft selling housing market, it takes extraordinary skill, experience, creativity, and keen business savvy to get you the price you want and deserve.

*APR 2019 Trendvision® Reports were used to calculate this report and were based on data available at the end of MAR 2019. All reports presented are based on data supplied by the Desert Area MLS. Neither the Association nor its MLS guarantees or is in anyway responsible for its accuracy. Data maintained by the Association of its MLSs may not reflect all real estate activities in the market. Information deemed reliable but not guaranteed.