Trilogy La Quinta: Year-over-Year Comparison, Jan. 2019 vs. Jan. 2018

Choosy Buyers Take Their Time, But Willing to Pay More
Number of Homes for Sale in Jan. 2019, (52 vs. 82) in 2018; (4%) of Trilogy's 1,238 homes.
Average Home Sold prices rose on average (+13%).
Number of Homes Sold stayed the same, 6 sold in both 2019 and 2018.
Number of Homes Pended decreased (-44%); 5 homes in 2018 vs. 9 in 2018.
Days on Market increased (+13%), 105 days in 2019 vs. 93 days in 2018.Bottom Line
Bottom Line
The 2019 market is off to a slow start. In January the Number of Homes Sold stayed the same as last year, but the Number of Pending Home sales is almost half of what it was in January 2018. It's also taking about two weeks longer on average to sell our Trilogy homes. Today's home buyers are taking their time and are picking up homes offering good value for the dollar.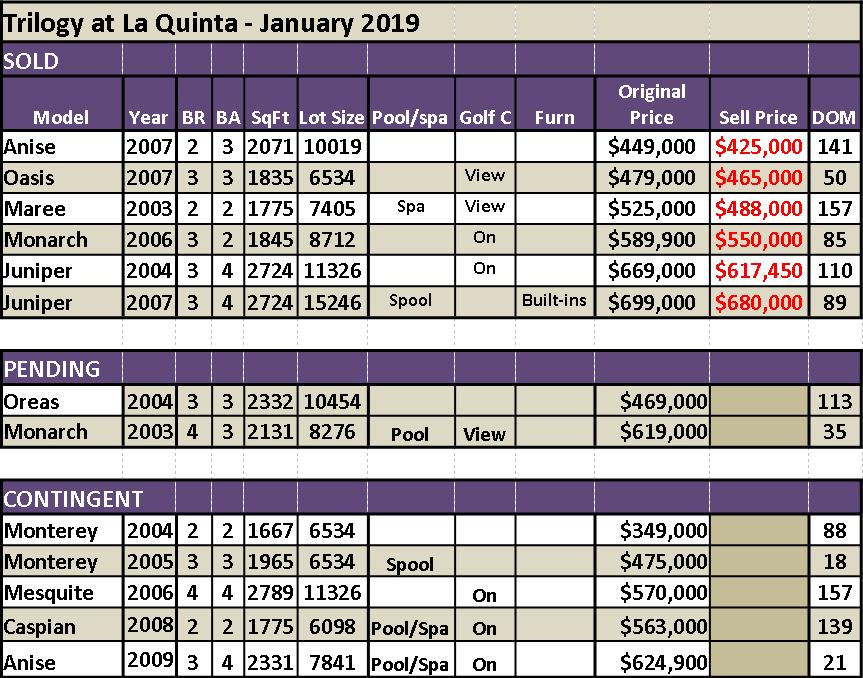 Tip: Buyers are willing to part with their money for homes that are in excellent condition and offer a little something extra. Make sure your home is clean, bright and inviting, especially your front entry.

Coachella Valley Cities: Year-over-Year Comparison, Jan. 2019 vs. Jan. 2018


Number of Homes for Sale & Sold Down; Prices Tick Up
Compared to January 2018, the Number of Homes Sold decreased in every pricing category. But the Average Active Price and Average Sold Price of homes increased for homes priced up to $999,999. What's more, they are selling from (8% – 14%) quicker than January last year.
Homes priced 1+ million slowed in sales and prices, and are on the market 122 days, (47%) longer on average than last
Inventory overall, is still lower than last year except for a small increase in the number of homes, 1194, up 2% in the $500,000 to $999,999 price range.
Coachella Valley Cities by the Numbers

Number of Homes Sold:

January 2019 sales were down across the board

compared to January 2018. All were down at minimum of 11%, with Cathedral City, Bermuda Dunes and Rancho Mirage showed the sharpest declines.

Average Days on Market (DOM): Although fewer sold in January, on average,

homes sold quicker in the cities of Bermuda Dunes, Cathedral City, Palm Desert, and Palm Springs

. Cities of Indian Wells, Indio, La Quinta and Rancho Mirage sold at a slower pace.
Average Sold Price: The

price of homes increased in 5 of the 8 cities

shown. The cities of La Quinta, Indio, Cathedral City, and Rancho Mirage, experienced the highest percentage increases from 10% to 17%. Bermuda Dunes and Indian Wells home prices had the largest decreases, -13% and –18%.
Number of Homes for Sale: There were

significant decreases in the number of homes for sale

in the cities across Coachella Valley,

with the exception of Indio

, where the number of homes for sale in January increased by 7%. The inventory of homes has remained low year over year for more than 6 months.

Trilogy at La Quinta, 81484 Jacaranda Ct., La Quinta
Snowbirds, live your winters in the sun. Enjoy the luxury of living in a home and neighborhood designed around all the amenities of a resort destination, outdoor living, all with a friendly, hometown feel. Call today for details.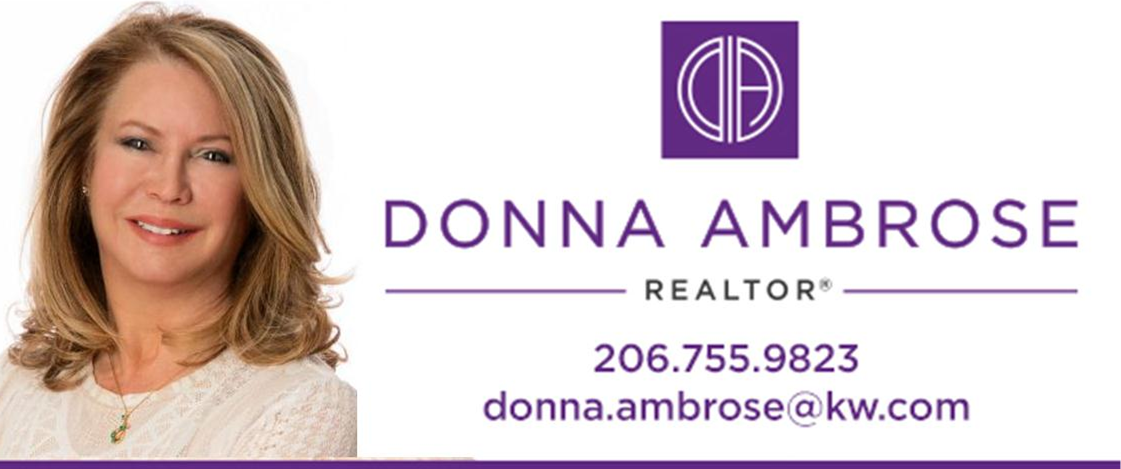 JAN 2019 Trendvision® Reports were used to calculate this report and were based on data available at the end of JAN 2018. All reports presented are based on data supplied by the Desert Area MLS. Neither the Association nor its MLS guarantees or is in anyway responsible for its accuracy. Data maintained by the Association of its MLSs may not reflect all real estate activities in the market. Information deemed reliable but not guaranteed.