High Season. High Times. Salute!
It's Hot, Hot, Hot, in the Cali desert as our Entertainment High Season kicks into high gear. There are so many exciting shows, pro sports, art and music festivals in the Coachella Valley, that making a choice is the hardest part.
My Coachella Valley Entertaiment Guide provides highlights of some of our Valley's biggest and most popular activities, events and venues. Embedded links in the articles take you direct the box office. Cheers!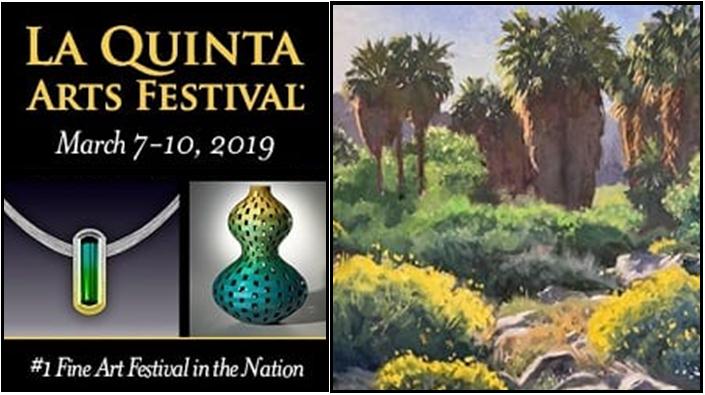 37th La Quinta Arts Festival®
In the Coachella Valley, Art is Natural as Breathing
The very essence of our Valley—its brilliant colors, abundant light and natural beauty infuses our minds and spirits with inspiration, sparking for many, the desire to create striking works of art, architecture and design.
#1 Fine Art Festival and #1Fine Craft Festival in the Nation
While there are art shows and galleries in just about every city in the Valley, the La Quinta Arts Festival is in a class all its own. According to a recent press release by the La Quinta Arts Foundation, the Greg Lawler's Art Fair SourceBook (AFSB), La Quinta Arts Festival retained its#1 in the nation ranking for both judging categories, Fine Art and Fine Craft.
At the La Quinta Civic Center Campus, 78495 Calle Tampico, La Quinta; parking is free or $10-$15 for Valet.
La Quinta Car Show, Feb. 23, 11-4PM
77-865 Avenida Montezuma, in La Quinta Cove. Free and open to the public. Entertainment, food, drinks, beer garden. Prize-winning categories include: Best Street Rod, Best Classic, Best Muscle Car, Best Sports Car, and more. https://www.playinlaquinta.com/event/la-quinta-car-show/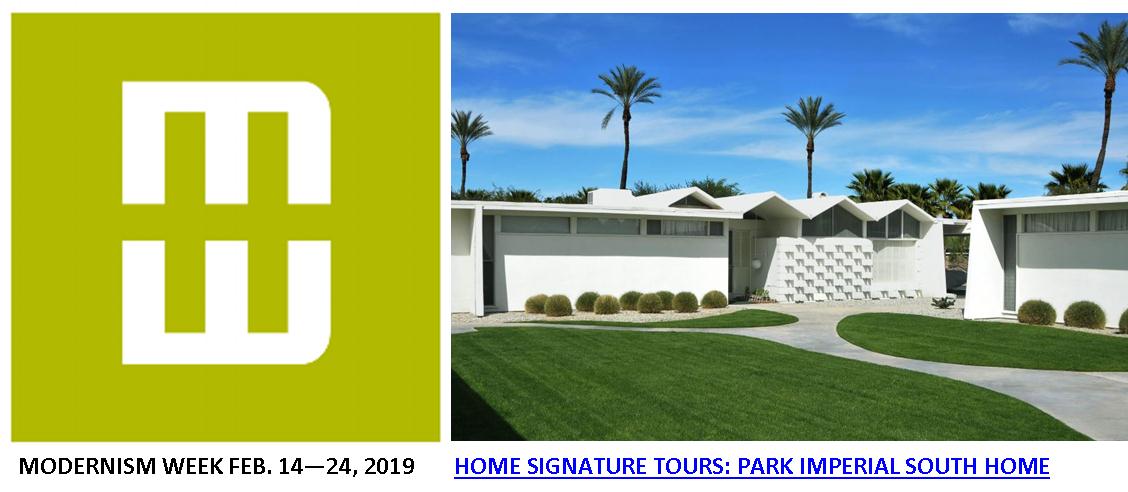 Mid-Century Modern Homes Reign Supreme in Greater Palm Springs
11-Days, Feb. 14 – 24, 2019
This year's Modernism Week will offer tours of the Modernism Week Show House: The Christopher Kennedy Compound 2019, five Featured Homes and curated Signature Home Tours thru Feb 24th!
The Modernism Week Show House. The Christopher Kennedy Compound returns for its fifth year, and is named by The Hollywood Reporter as the week's "No. 1 Must-See Event." Interior designer Christopher Kennedy brought together 14 of the nation's most prominent and rising-star interior designers to create unique rooms in the official Show House of Modernism Week. Set on a golf course in the posh Indian Canyons neighborhood, the 1962 property is set on a golf course in Indian Canyons. For more details, please visit TheChristopherKennedyCompound.com

Modernism Week Tour of Featured Homes
This year, attendees will be able to tour five Featured Homes located in Palm Springs (tours occur on different days throughout the festival):

GREEN GABLES Designed by Palmer-Krisel and built in 1958, this original three-bedroom, two-bathroom home has been completely renovated by H3K Design. The house sits at the gateway to the Twin Palms neighborhood. Feb. 17, Tickets $30
LA VIE EN ROSE Interior designer Christopher Kennedy presents a spectacular renovation of a 1958 midcentury property in the Vista Las Palmas neighborhood. Furnishings and décor by Kennedy and his team exemplify the sophisticated California glamour for which his brand is known. It is open for tours from February 16-18 and tickets are $30.
DESERT EICHLER Tour a newly built, modernized version of an original Eichler house designed by Anshen + Allen. Homeowners Brad and Heather Fox, stars of HGTV's Stay or Sell, collaborated on the home's interiors with fun and colorful décor creating the perfect vacation home for their young family. It is open for tours from Feb. 17-19 and tickets are $30.
AXIOM DESERT HOUSE This stunning home by Turkel Design is a midcentury-inspired pre-fab home built for designers Joel and Meelena Turkel. Celebrating desert design it is simple, elegant, and replicable. It is available for tours February 22–24 and tickets are $30.
A favorite of architecture fans featuring the beautiful features of our desert homes and lifestyles in a neighborhoods uniquely Cali. There is still room for Modernism Week Signature Home Tours, February 24. Tour tickets are $135.


Of course I can't mention Palm Springs without talking golf, tennis, and polo! These three are the mainstay of professional sports in the Coachella Valley, and the main reason (other than the warm sun, palm trees and insane mountains) for living and visiting here.
Golf Courses from La Quinta to Palm Springs
Golf and the Coachella Valley are almost synonymous. 28% of California's golf courses are located here, some 124 and at least 20 world-class destination golf resorts.
A good place to start is this Palm Springs Life Magazine article that lists a few golf courses for newbies to experts. Click Coachella Valley Golf Courses Challenge All Levels of Players by Judd Spicer
PGA West Golf with its TPC Stadium, Greg Norman and Nicholas courses are favorites as is The Golf Club at La Quinta.
2019 BNP Paribas Open, March 6-17, at the Indian Wells Tennis Garden
The BNP PARIBAS OPEN is a Grand Slam for Tennis fans around the world!
Tennis is REALLY HUGE here. I just started playing and am totally hooked. The speed, athleticism and fierce competitive nature of the sport is incredible adrenaline rush. Who knew?

All this means is that if Tennis is your go to sport, then you better get your tickets now for the BNP Paribas Open Now!
Click Here for Box Office Schedule and Tickets
Empire and Eldorado Polo, Indio
Sun, food and fast ponies. There's is no better way to spend your Sunday that with a glass of Chardonay while
Eldorado Polo Club: Through April 1, Friday, Saturday and Sunday: Clubhouse Reservations (760) 831-POLO (7656)
Empire Polo Club: Through Mar. 31, Sunday Polo games are offered are open to the general public. Friday Night Polo games are offered in Mar. on select dates.
Sunday Polo General Admission & Tailgating is FREE, parking is $20 per car.

MID FEBRUARY – MARCH 2019
Select Activities and Events. Click on embedded links below for all the latest and upcoming events at that venue.
CITY OF LA QUINTA
LA QUINTA CAR SHOW, FEB 23, 11AM-4PM, at 77-865 Avenida Montezuma, in La Quinta Cove. Free and open to the public. Entertainment, food, drinks, beer garden. Prize-winning categories include: Best Street Rod, Best Classic, Best Muscle Car, Best Sports Car, and more. https://www.playinlaquinta.com/event/la-quinta-car-show/
LA QUINTA, FULL MOON HIKE. FEB 19, 7-9PM; MAR 20, 7-9PM. Top of the Cove at Calle Tecate & Avenida Bermudez, La Quinta. Experience a hike by moonlight! See the beauty of the shadows and wash of moonlight on our mountains. We will be looking for all types of night creatures along the trail. Registration begins at 6:45pm. RSVP Required. Visit desertmountains.org/calendar or call 760-862-9984
FIRST THURSDAYS AT LA QUINTA, 5PM – 8PM, MAR 7, APR 4; FREE ADMISSION; Old Town La Quinta on the first Thursday of every month from November through April and enjoy live music on Main Street! Happy hour menu and drink prices are extended to 8 pm in addition to regular dinner menus at Solano's, The Grill on Main, Old Town Tavern-Barbeque & More and Stuft Pizza Bar & Grille. Dine al fresco. Shop &. Experience olive oil tastings with complimentary food pairings at La Quinta Olive Oil Company and more! www.playinlaquinta.com
THE SUNDAY CERTIFIED FARMERS MARKET, EVERY SUNDAY, 8AM – 12:30PM, FEB 17, 24, MAR 3, 10, 17, 24, 31. Old Town La Quinta. Fresh produce, herbs, honey, nuts, cheese, fresh-cut flower bouquets, organic meat, fresh baked breads, olive oils, chef demonstrations, knife sharpening, live music. www.playinlaquinta.com
ART ON MAIN, OLD TOWN LA QUINTA, FEB 16, MAR, 16 APR, 6AM – 4 PM. Art on Main Street features over 100 artists each season showing and selling their paintings, jewelry, mixed media, photography, ceramics, glass, woodwork, textiles, sculptures and more. The shows are a local favorite and an Old Town tradition. They are set amidst Main Street's charming cafes and boutiques. Barry Minniefield from The Voice performs live at every show this season. www.playinlaquinta.com
AROUND THE VALLEY
RECURRING EVENTS

FANTASY SPRINGS CASINO
February
March
Michael McDonald | 1
Frankie Valli | 2
Terry Fator | 8
Il Divo | 16 Illusionists | 29
Click here for Fantasy Springs Box Office
AGUA CALIENTE CASINO
March
Toni Braxton | 1
Jerry Seinfeld | 2 – SOLD OUT
Vache Amaryan, Tatev Asatryan & Gevorg Martirosyan | 9
Los Temerarios | 15
En Pare Ja Dos- Adrian Yribe & Consuelo Duval | 16
Purple Reign: The Prince Tribute Show | 23
Hwang Chi-Yen | 31
April
Click here for Agua Caliente Box Office
MORONGO CASINO
February
March
Flogging Molly |16
Nguyen Hong Thuan (18+) | 24
Breakfast with The Beatles (21+) | 31
April
Click here Morongo Casino Box Office
MCCALLUM THEATRE
February
Nat Geo Live:Coral Kingdom & Empires of Ice| 18
Legends in Concert | 19, 20
John Mueller's Winter Dance Party | 21
Catskills on Broadway | 22
Keiko Matsui | 23
The letterman | 24
Steel Magnolias | 25
Evita | 28
March
Stomp | 1, 2
Legends of Folk | 3
Pablo Sainz Villegas | 4
Neil Berg's 50 Years of Rock & Roll | 5, 6
Rhapsody in Blue | 7
The Irish Rovers | 8
Steve Tyrell | 9
Bravo Amici | 11
Mystic India | 14
Monty Python's Spamalot | 15, 16, 17
Nat Geo live: Capturing The impossible | 18
Matthew Morrison | 21
Kristin Chenoweth | 22, 23
Jeffrey Siegel | 25
Click Here for the entire McCallum Theatre Schedule & Box Office
A REALTOR with experience and expert negotiation skills, I'll help find your new home in the California desert sun.