Trilogy at La Quinta—November Market, Year Over-Year, Nov. 2018 vs. Nov. 2017
With only 4% of Trilogy's 1,238 homes for sale (53 vs. 68 last year) home prices rose on average 14% over November 2017. The Number of Homes Sold increased to (7) from (5) last year, and sold on average in fewer Days on Market, (73 vs. 80).

With Fewer Homes Competing Now May Be the Best Time to Sell
With the golf course looking better than ever, an updated Bistro 60 soon to make its debut, and a new high season around the corner, now just might be the best time to get your home sold, quicker and at a higher price than in recent years. Should the low inventory continue through the prime selling season, this could be the optimum time to sell your home.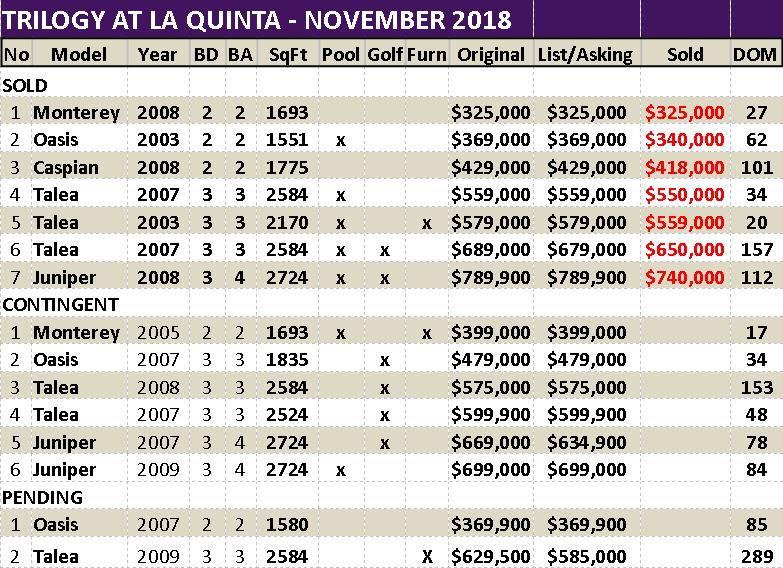 Can Home Sales and Prices Continue to Rise?
Current domestic and global geo-political activity is making it difficult to predict future financial and real estate markets. And, although hard to believe, within just 6 months the U.S. political machines will be gearing-up for the 2020 Presidential Election and expectations are that it will be no less contentious than the last.
However, while instability and unpredictability can cause some people to pause before making important financial decisions like buying or selling a home, others may be inspired to take immediate action.

How this impacts the future of the Coachella Valley and Trilogy Real Estate market is an unknown, but one to take into consideration if a move is in your future.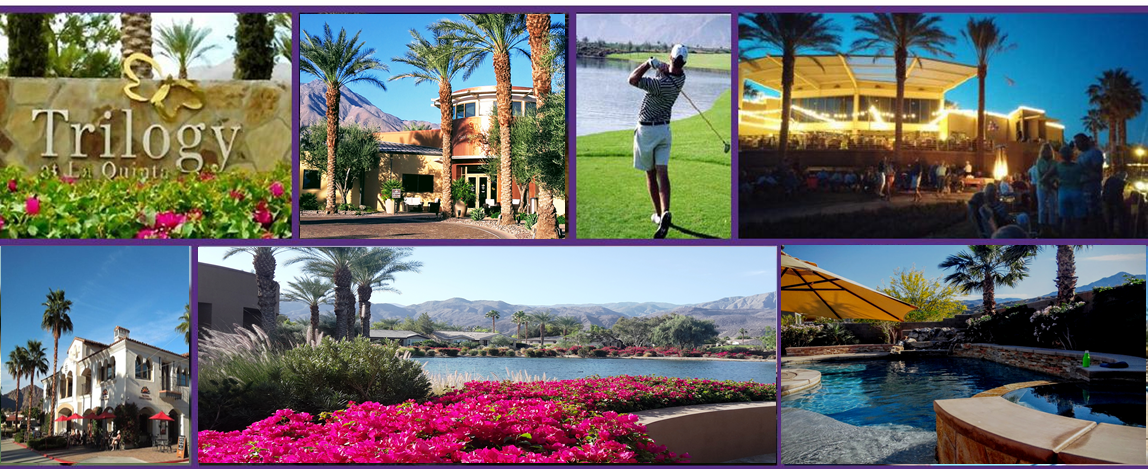 Specializing in Retiree and Vacation Homes and Lifestyles
While many agents sell homes in communities such as Trilogy La Quinta, Trilogy Polo Club and Sun City Palm Desert none have the business, finance and personal experiences that I have to offer. Selling and buying homes at any age is stressful but the considerations that need to be made as we age are even more critical. Having a REALTOR with the experience you need and passion to help make your future the best it can be, makes the experience easier, less stressful and enjoyable, as it should be!
Let's chat! Call or email soon.

NOV 2018 Trendvision® Reports were used to calculate this report and were based on data available at the end of NOV 2018. All reports presented are based on data supplied by the Desert Area MLS. Neither the Association nor its MLS guarantees or is in anyway responsible for its accuracy. Data maintained by the Association of its MLSs may not reflect all real estate activities in the market. Information deemed reliable but not guaranteed.