With Fewer Homes on the Market, Now Is a Good Time to Put Your Trilogy Home Up For Sale
The summer's longer than usual hot spell kept some Trilogy homeowners from listing their homes. This delay may cause a rush to market when they arrive this month. Right now, there is less than 4% of TLQ homes up for sale, well below the norm. And as everyone knows, low supply generally means faster sales, and possibly higher prices.

The MLS TrendVision® Year-Over–Year, September 2018 vs. September 2017 Stats tend to bear this out. Although the heat kept some TLQ home buyers away, (9 homes sold Sept. 2018 vs. 13 Sept. 2018), average home prices were stable, and the median price point was up 8%. The nine homes that did sell, sold in 67 days, (-32%) fewer days on market than in 2017.
Fewer Homes For Sale, Sold & Pended

Homes sold in (9) in 2018 vs. (13) in 2017
Pended homes, (6) vs. (7) in 2017
Fewer Trilogy homes for sale (44) vs. (53) in 2017
Home Prices Stable, Selling Faster
Average Home Sold Prices declined by (-1%)
Median Home Sold Prices increased (+7.6%)
Homes sold (32%) faster than September 2017The
Right Price will get your home sold in Trilogy's average Days on Market of 2-3 months. Priced too low, it could sell too quickly, leaving money on the table. Priced too high, it could take 6-12 months, or, never sell.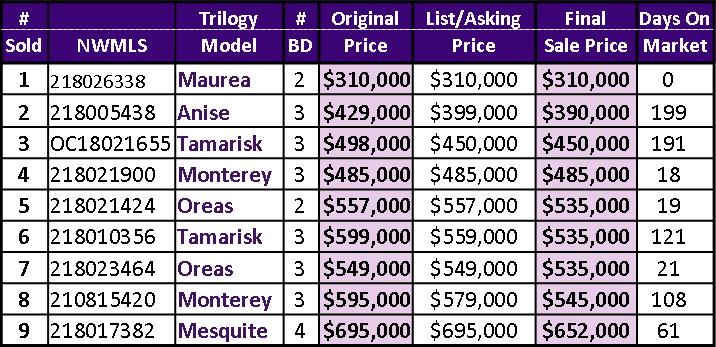 The information resented here is only one of many sources and tools needed to accurately price a home for sale in Trilogy at La Quinta.
Right-Pricing a Home for Sale
Regardless of the model, there are many factors to consider when pricing a home. Every home has individual assets or deterrants as compared to other TLQ homes.
For Example:
home size,
layout,
lot size and location,
street,
direction on the property,
indoor upgrades,
outdoor amenities,
interior design,
recent sales, all play a role.
Maximizing the value of properties purchased at peak prices is even more critical. A TLQ resident, experienced REALTOR®, and degreed analyst, I can offer the detailed analysis needed for you to make your best pricing decision.
Custom Services, Flexible Pricing & Exclusive Direct to Buyer Markets. Call me first when you are ready to sell. 760.289.4276
Sep.
2018 Trendvision® Reports were used to calculate this report and were based on data available at the end of September 2018. All reports presented are based on data supplied by the Desert Area MLS. Neither the Association nor its MLS guarantees or is in anyway responsible for its accuracy. Data maintained by the Association of its MLSs may not reflect all real estate activities in the market. Information deemed reliable but not guaranteed.